ABOUT US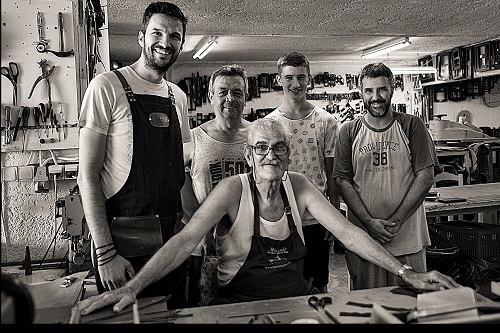 Hatzisleather Enterprise is engaged in leatherwork since 1973 in Heraklion, Crete.
With our love for leather and its manufacture plus the excellent use of machinery we contrived in the last 46 years to create a range of products that meets the modern's man needs.
Initially as shoe manufacturers and afterwards with bags, belts and other accessories we managed to rival large companies in the area in Europe and even cheap imported products.
We aim is people to understand that the handmade objects remain untouched by time and, despite the technological development, they will be always first in quality.
Our target is to conserve our distinguished quality with excellent raw materials.
- Italian but also Greek metals of high strength and quality.
- Naturally treated leathers that come from controlled animal production farms as regards their skin.
Considering all these plus our extensive experience, we are in position to satisfy even the most demanding customer.
Our company is Certificated by QUALITY MANAGEMENT SYSTEM ISO 9001:2015 and with the badge of CRETAN HANDS from Heraklion Chamber of Commerce and Industry.